Food safety certification forms
According to the current technical regulation legislation in the EEC territory (Belarus, Kazakhstan, Kyrgyzstan, Russia, Tajikistan and Uzbekistan), food products shall have one of the following documents:
In addition, the manufacturer can carry out optional food safety certification in the GOST R Russian national system. These document forms are not interchangeable. If the company decides to issue an optional certificate, the Declaration of Conformity shall be obtained first, since it is mandatory and high priority.
Food products subject to declaring
Milk and fermented milk products;
Meat and meat products;
Fish;
Eggs;
Vegetable and animal fats;
Pasta;
Flour, grains and bran;
Bread and bakery products;
Fresh vegetables and fruitage (including fruits, berries, nuts) and food products made from them;
Sugar;
Dried fruits;
Honey and apiculture products;
Confectionery goods;
Spices and seasonings;
Mineral water and soft drinks;
and other products.
The State Registration Certificate must be obtained for specialised food products.
Specialised food products include:
Baby foods, including drinking water for infants;
Food products for medical and prophylactic dietary nutrition;
Natural mineral water, medicinal table water, medicinal mineral water with mineralisation of more than 1 mg/dm3, or with less mineralisation containing biologically active substances in an amount not lower than balneological norms;
Food products for athletes, or pregnant and lactating women;
Dietary supplements (BAA).
Current technical food regulations
On food safety (TR CU 021/2011) — the main regulation;
On safety of milk and dairy products (TR CU 033/2013);
On safety of meat and meat products (TR CU 034/2013);
On fat and oil products (TR CU 024/2011);
On fruit and vegetable juice products (TR CU 023/2011);
On safety of fish and fish products (TR EAEU 040/2016);
On safety of packaged drinking water, including natural mineral water (TR EAEU 044/2017).
TR EAEU 047/2018 (On safety of alcoholic beverages) comes into force on 1 January, 2021. 
To find out about the TR CU your products have to comply with, please contact our managers; we will provide you with the detailed information by e-mail at [email protected]
Food marking requirements
Food products released to the market must be marked in accordance with the current law. The label must contain the following information:
EAC mark (market circulation mark of the Eurasian Economic Union);
Name, including the trademark;
Name and address of the manufacturer;
Ingredients;
Nutritional value;
Expiration date, storage conditions.
Imported food products must also have information on the importer. The marking rules are provided in TR CU 022/2011, Food products in terms of labelling.
EAC labelling example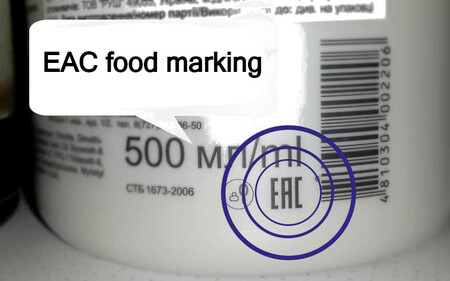 Procedure for declaring food products
Submission of an application or request containing the list of products, in order to determine the cost.
Provision of samples for laboratory tests and copies of the applicant company documents.
The samples obtained are tested according to the determined cycle; upon its results, the testing centre issues a report. If the sample complies with the current regulations, a positive report is issued.
An electronic Declaration of Conformity is be registered in this case, and it is automatically recorded in the register.
The applicant is given the original testing protocol, as well as the originals of the contract and the job completion certificate.
The documentation is sent over electronically.
The Declaration of Conformity validity period
is determined by the technical regulations;

depends on the declaration procedure;

depends on the declaration format: batch or lot.
The average period is between 3 and 5 years.
If you have any additional inquiries regarding the food safety certification procedure, please contact the WorldWideBridge team at email  [email protected]. Our experts will answer all your questions!