---
G-MARK
G-mark (Gulf Conformity Marking)
The G-mark aims to establish a single market, allowing the free movement of these products in the member countries of the Cooperation Council for the Arab States of the Gulf (GCC). G-mark open the possibilities to import or sell the products in Gulf Member States: Bahrain, Kuwait, Oman, Qatar, Saudi Arabia, United Arab Emirates and Yemen.
WWBridge provide services for manufacturers with expert support and guidance on the Gulf Technical Regulations and overall G marking requirements and procedures. We are up-to-date with the latest guidance and standards and we can guide you through the entire process in a few steps.
What is the importance and advantage of obtaining the mark?
International recognition of the product conformity
Fulfilling a mandatory requirement for distributing the product in GCC market.
Certification process:
Documentation - an applicant must prepare certain technical documents, such as instruction manuals, safety electromagnetic compatibility tests carried out by authorized laboratories and risk analysis identifying chemical, physical, mechanical, electrical and radioactive aspects, among others, that could affect the equipment or apparatus.
After all documents filled in and signed we start approval certification process
Every item is registered in an electronic GSO Certificate Tracking System in which all products bearing the Gulf conformity marking are subject to the notified body.
After reviewing the technical file, if the process complies with the regulations, the certificate is issued and the G Mark is granted.
Validity of G-mark certification:
3 years
What is Gulf Conformity Tracking System (GCTS)
The general requirements for the marking of products are stipulated in the Gulf Regulation on G-Marking – BD09100501. As detailed below for certain product groups in the scope of the Technical Regulation the certification by a Notified Body is mandatory. These products will be registered in the product tracking system of GSO and have to display the "Gulf Conformity Tracking Symbol" (GCTS) on the product itself and on its packaging. 

 
GSO Conformity Tracking Symbol (GCTS)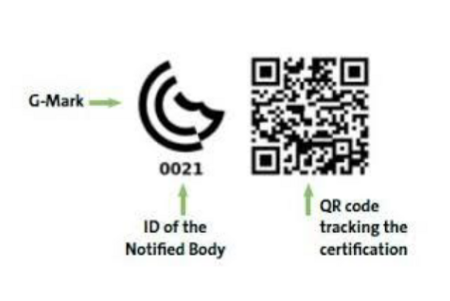 A symbol provided by the GSO, consisting of the Gulf Conformity Marking, with three-digits notified body number, located below it, and the QR Code. This symbol is generated by GSO Certificate Tracking System. It should be placed on product and/or packaging and accompanying documents.
If you need to get a G-Mark, send a request with the information about the product to the e-mail: [email protected], or call +7 (495) 787-87-70.
---
---
Certification experts will be pleased to consult you in your own language