---
Israel
Israeli regulations and compliance requirements are established to reduce risks, improve the quality of life and ensure safety during use. They can however pose challenges to companies who are looking to explore new markets. WWBridge provides a full range of services and helps our customers to ensure products successfully meet Israeli standards.
WWBridge can help you with any or all of the following to achieve Israel compliance:
MoC
The market approval of products with built-in wireless technologies for Israel depends on an MoC certification. This regulatory approval is issued by the Israeli Ministry of Communications (MoC). The MoC certification is based on the requirements of the Radio Equipment Directive (RED) for market approval in Europe. The MoC therefore also accepts test reports that have been created for a CE marking, so that local tests in an Israeli laboratory are not necessary. This reduces the effort for manufacturers who need to plan between ten and twelve weeks for an MoC certification. At the end of the certification process, however, a local representative from Israel has to be involved.
Following a successful product approval by the authority, the manufacturer is required to label its product for the Israeli market with the MoC approval label. 
Types of MoC Type Approvals:
MoC Radio Type Approval
MoC wireless type approval
MOC Telecom Type Approval
Important to note: MoC certificate will be issued only to Israeli Local Representative/importer.
Products requiring MoC Type Approval include:
radio transmitter, RFID equipment, contactless card readers, other products that incorporate some kind of RF transmitter.
radio terminal devices
mobile (GSM or CDMA) handsets, wireless LAN (WLAN) equipment such as Wi-Fi devices, Bluetooth devices, Zigbee devices,

 WiMAX devices, RFID equipment, contactless card readers, other products that incorporate some kind of RF transmitter.

 

telecommunications equipment
SII
The Standards Institution of Israel - (SII) is Israel's official body for the preparation and publication of Israeli standards. SII is a non-Governmental Organization with a unique status spelled out by "The Standards Law of 1953". According to this law, the purpose of SII is to Prepare standards as well as to ensure the quality of products which are produced locally or imported. As of January 2018, SII has published 3,504 national standards, of which 653 are mandatory. At the same time, 78% of Israel's mandatory standards are harmonized with international (53%), regional (35% based on European CEN / CENELEC standards) or other foreign standards (12%, mainly US standards).
Products subject to mandatory Israeli standards
• Electrical products
• Engineering products
• Metalware
• Construction products
• Fire extinguishing products
• Medical devices
• Individual protection means
• Telecommunication equipment
• Chemical production
• Food products
• Goods for kids
• Cosmetic products
• Fuel products
• Sanitary and hygienic products
• Woodworking products
• Other consumer products
SII certification mark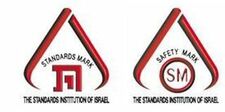 Applicable product range
• Household appliances
• Switches and automatic switching devices for cables, wires, instruments
• Plants and joints
• Lighting Technology Products
• Adjust protection equipment
• Low-voltage control device
• Small power transformer
• Welding equipment
• Personal computers and laptops
• Chemical supply
• Small and medium engines
• Measuring tools
• Electronic equipment
• Game console
• Information technology equipment and office equipment
• Cinematographic equipment and supplies
• Radio communication, radio broadcasting, television equipment
• Communication and fax equipment
• Low-voltage equipment, high-voltage equipment
• Electric heating equipment
The conformity assessment of products that are subject to mandatory Israeli standards is linked to the risk assessment divides the products into 4 groups:
Group 1 – Products with the highest risk level. A condition for the release into circulation of goods of this group is the testing and type approval ("type certificate"), which is carried out by an accredited Israeli Laboratory Accreditation Agency (ISRAC) and an authorized testing laboratory by the Ministry of Economy and Industry.
Group 2 – Products with an average level of risk. The condition for the release into circulation of goods of this group is the presence of a "type certificate" and a "supplier's declaration" that the delivered goods meet the requirements of a mandatory (official) standard and that the goods correspond to the type (model) that has been tested and approved by the testing laboratory in the "type certificate".
Group 3 – Products whose risk level is considered low. A condition for the release into circulation of goods of this group is the submission of a declaration signed by the importer on the compliance of the goods with the requirements of the mandatory (official) standard.
Group 4 – Products intended for use only in industry, and not used in the consumer market. This group does not require an import conformity assessment. Compliance with the mandatory standards is checked during supervision at the operational stage.
We can get your products approved for sale in Israel with our services. We can:
• Research and understand what your product or technology has in terms of Type Approval Israel requirements in Israel. We make sure your product complies with up-to-date safety regulations.
• Test your product when it's being designed and developed to see if it complies with regulations
• Help you complete application forms and other paperwork
• Carry out testing in official laboratories or your own facilities if they qualify. We can issue CB Test Reports and Certificates complete with any national differences that apply. We are also able to prepare test reports for wireless.
• Deal with the whole submission of your product and can work with local organizations to test and certify your product.
• Organize any inspections of your factory that are required before Type Approval Certification Israel can be done
• Organize testing to verify your qualified products where necessary
• Make your project run smoothly and quickly.
• Assist in renewing or maintaining certificates when required
• Translate any user manuals if required
In Israel, we can provide you with a tentative Israel Type Approvals offer based on your submitted datasheet that you can send to [email protected], or call +7 (495) 787-87-70.
---
---
Certification experts will be pleased to consult you in your own language