This technical regulation of the Customs Union applies to electrical equipment, including Ex-components, and non-electrical equipment which has special qualities that ensure protection and has EAC and Ex marking.
Marking shall be applied to the surface of the equipment or plate available for inspection without disassembly or the use of tools, and remain for the life of the equipment.
The marking of EX products shall include the following:
1) the name of the manufacturer or his registered trade mark;
2) the manufacturer's type identification;
3) a serial number;
4) the number of the certificate of conformity (example: ТС RU С-US.ГБ08.B.xxxxx)
5) the explosion-proof marking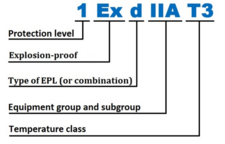 6) EX mark, EAC mark.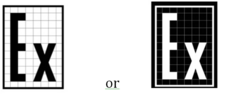 AND 

The marking must be drawn up in the Russian language
The marking shall be affixed on the surface of the equipment or on the label in a location that is visible without disassembly or use of a special tool, and it shall last for the whole lifetime of the equipment.
Upon decision of the manufacturer or in accordance with the delivery contract (agreement) the marking of equipment may include additional information that is of importance for its safe use, including the following:
the rated voltage value or a range of rated voltage values;
the working voltage value for continuous operation;
the symbol of the kind of current (if the rated frequency is not specified);
the symbol of shock-hazard protection class;
the degree of protection provided by the enclosure;
the rated consumed or useful power or the rated current;
the weight;
dimensions;
the manufacturing date
For additional information about hazardous industry equipment certification you may follow next links: 
• Explosionproof equipment
• Hazardous industry equipment (PED / EX-proof / GAS / PPE / Machinery)

By Amina Tarchokova
International key account manager
WorldWideBridge LLC