The RoHS directive is binding primarily on the markets of the European Union, however, due to the globalization of the electronics industry, it has quickly become the standard on world markets. We want to share a case on how to quickly and efficiently obtain ROHS test reports for exporting goods to Saudi Arabia.
What is RoHS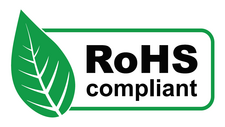 RoHS (Restriction of Hazardous Substances) is a directive of the European Parliament and of the Council on the restriction of the use of certain hazardous substances in electrical and electronic equipment, in force since 2011.
Product groups covered by the RoHS Directive:
 large household appliances,
 small household appliances,
 IT equipment and telecommunication equipment,
 household equipment,
 lighting fixtures and systems,
 electrical and electronic tools (except for large, stationary industrial tools),
 toys and sports equipment,
 automation.
RoHS restricts the use in equipment and manufacturing of six hazardous substances:
• 1. Lead ( Pb )
• 2. Mercury ( Hg )
• 3. Cadmium ( Cd )
• 4. Hexavalent Chromium (Chromium VI or Cr6+)
• 5. Polybrominated Biphenyls (PBB)
• 6. Polybrominated diphenyl ethers (PBDE)
RoHS in Saudi Arabia
In Saudi Arabia, RoHS test reports must be issued in accordance with local requirements. These protocols are required to register a product on theSABER platform.
What is SABER
SABER is a platform that allows importers and local manufacturers to electronically obtain the required Certificate of Conformity and Certificate of Shipment Conformity for consumer goods, whether they were imported or locally manufactured to enter the Saudi market.
G-Mark certification is also required to register low voltage equipment on this platform.
What is G-mark
The G-mark for low voltage electrical equipment (LVE) and children's toys that are being imported or sold in the Gulf Cooperation Council (GCC) member states consisting of:
United Arab Emirates
Kingdom of Bahrain
Kingdom of Saudi Arabia
Sultanate of Oman
State of Qatar
State of Kuwait
Case for getting ROHS test reports for Saudi Arabia
Search for a laboratory accredited to conduct ROHS testing in accordance with Saudi Arabian standards
Analysis of documentation, determination of the number and content of test reports for the declared products
Sending customer samples and testing in the laboratory
Issuance of ROHS test reports, which were subsequently used by the client to register on the SABER platform for the issuance of a Certificate of Conformity
Our company is always ready to quickly issue the certificates you need and conduct tests in accredited laboratories in any country with which WWBridge works. For more information, you can contact us by email [email protected] or phone +972 3-376-0667. 
Read also: How to certify Radio/ EMC in South Korea