What this article is about is one of the new rules that came into force in the very beginning of 2021. This rule suggests that there must be a very clear identification of all the products that are imported for certification as samples and there must be a very clear identification of all the production sites that are responsible of making the product including the manufacturer itself and all its production sites that would be mentioned in the TR CU Certificate of conformity or the TR CU Declaration of conformity. According to the Federal Accreditation Service (FAS), the simplest way to provide such identification is to use special codes that are recognized over the globe. There are two of them:
1. GTIN (Global Trade Item Number)
GTIN is a 14-bit international global trade item number in the unified international GS1 commodity database, and it is used to identify products in logistic accounting.
The GTIN barcode uses numbers only, no letters or other symbols are allowed.
 The example is shown below:

Each GTIN can show all the properties of the product. For example if we talk about clothes, this code would give us the information about the following properties typical for clothes: size, materials, parameters, color (which actually means that, for instance, even two absolutely same t-shirts with different colors would obtain different GTINs), etc.
2. GLN (Global Location Number)
GLN is a 13-bit international global location number (unique number in the GS1 system). It is used worldwide to identify businesses, functional units, and physical locations. In other words, it is a unique identification unit to provide a clear understanding where the production site is located and how to identify it. The GLN is used in electronic messaging between customers and suppliers, where location is vital. 
The example of GLN is shown below: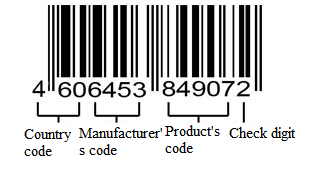 As we can see here, GLN can even contain the information about the product itself besides the country and the manufacturer.
Both codes (numbers) can be issued by GS1 – it is a not-for-profit organization that develops and maintains global standards for business communication. The best known of these standards is the barcode, a symbol printed on products that can be scanned electronically. According to the statistics, over 100 million products carry GS1 barcodes and they are scanned more than six billion times every day.
Although officially this new rule came into force in January 2021, there's still time to skip entering these codes while issuing TR CU Certificates or Declarations. It has not yet been a strict demand by the certification bodies. But there is going to be a new legislative act that is coming into force in July 2021 that will make it necessary to mention all these codes with no exceptions. And while it's still an issue where to get these codes if the products or production sites don't have ones, GS1 is always here to help. This company is directly responsible for making GTIN and GLN codes and it is represented in more than 100 countries all over the world. 
On the other hand, it's also been confirmed that another legislative act is about to come into force in 2021 (the definite dates are not known yet) and this one says that GLN code will be required only if the manufacturer has one, otherwise other identification means (for example GLONASS coordinates) will be required, whereas GTIN will be required only if the manufacturer has one for his products. WorldWideBridge keeps monitoring the situation and will be glad to announce any updates in this field.
Here's another important fact: according to the abovementioned legislative acts, in case it's unveiled that GTIN/GLN codes or any other identification means are not presented in the TR CU Certificate or the Declaration, the document shall be cancelled – and not from the day of discovering the absence of the codes, but from the day the document was issued. It means that all the products that were imported under this document would be considered illegal from the day of the issuing.
That is why it is absolutely important to take care of these codes, at least from July 2021. Knowing how challenging it might be for some manufacturers, we will be trying to establish the contact with the Russian branch of GS1 to make it whole lot easier to deal with the identification.
If you want to get know more about changes in the legislation according the EAC certification our employees can help you. Please contact us: [email protected].
By Dmitry Kondratsky
Certification Specialist. EAEU / CIS Department