---
South Korea
For many manufacturers or importers, conformity with local regulations often means a certification is required to verify compliance with the requirements of applicable consumer safety standards.
WWBridge has the expertise to assist with compliance management and can help you make the right choices to access the Korean market, while carrying out the necessary testing and certification quickly and professionally.
Certification services in South Korea:
KC certification
KC Marking
KC EMC certification
KCs Certification
KEMCO certification
KC certification
KC is a mandatory system to sell only the certified by Korea certification body product. It prevents electrical appliances from causing any accidents by risk or malfunction and requires compliance in accordance to Electrical Appliances Safety Control Act and related law.
KC has 3 schemes to confirm compliance:
KC Safety Certification
KC Safety Confirmation
KC Supplier Confirmation
KC Safety Certification is applicable for the products that could potentially be a high level of danger to the user. Such items require the Safety Certification procedure. According to this scheme the production audit is mandatory and carried out regularly once per year. The procedure can be simplified if the manufacturer has CB tests and certification (preliminary testing can be skipped).
Important! This requirement applies not only to the product, but also to the components.
KC Safety Confirmation - according to this scheme the manufacturer could provide 3rd party tests and certification, which include the standards and requirements of Korea as country deviation. Also, product registration is required.
Electrical equipment that is classified as less dangerous for users could apply for this type of Korea certification.
No audit requirements, the Certificate is issued for 5 years.
KC Supplier Confirmation - according to this scheme the manufacturer could provide 3rd party tests and certification, which include the standards and requirements of Korea as country deviation.
No product audit or registration required. Only electronic products which are classified as not dangerous could be Certified by this scheme.
All manuals for products must be in Korean before the start of the certification procedure.
The KC certification is manufacturer-based. This means that there is no differentiation between an applicant and the manufacturer.
If a product subjected to KC certification manufactured, imported, distributed, or sold without KC certification or falsely labeled, the concerned party would legally prosecute by Korean legislation authority. It can be sentenced up to three years in prison or fined up to 30 million won.
KC Marking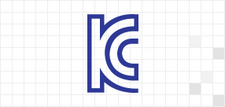 Once a product has been successfully certified, the KC label has to be marked on the product along with certain additional information. KC Mark is a national integrated certification mark such as CE of the EU, PS of Japan, and CCC of China. Under the KC logo the certification body and certificate number must be displayed. In addition, certain product information must appear on the product label. This includes the product and model name, production date and rated voltage (for electronic products).
While the KC logo remains a fixed requirement, actual labeling requirements around specific product information can vary between product categories. 
WWBridge provide services for manufacturers with expert support and guidance on the marking requirements and procedures. We are up-to-date with the latest guidance and standards and we can guide you through the entire process in a few steps.
KC EMC certification
Most electronic devices as well as broadcasting and telecommunication equipment that will be sold in Korea are required to obtain a KC EMC Certification. EMC Certification confirms that a product is electromagnetically compatible with the environment in terms of emissions and interference, and poses no risk to a consumer.
The responsible institutions for KC EMC Certifications are the South Korean National Radio Research Agency (RRA) and the Korean Communication Commission (KCC).
As wireless technologies become more and more prevalent in electronic devices, the KC EMC Certification is further gaining importance.
The application documents
• English translation of the manufacturer's extract from the commercial register
• Drawing and photos of the product to be certified
• Marking information of the product
• In-house test reports of the product to be certified
• Description of the test requirements
The process for the KC EMC Certification includes
• the submission of application documents to the authority
• subsequent product testing in Korea after the authority has concluded their initial review of the submitted documents. 
Once testing has been completed and test reports have been issued, the RRA will issue the respective certificates to the applicants.
WWBridge can provide you with a KC EMC Certificates based on your submitted datasheet that you can send to [email protected], or call +7 (495) 787-87-70.
KCs – Korean Safety Certification

The Korea Occupational Safety and Health Agency (KOSHA) unified safety certification systems under the Occupational Safety and Health Act in Korea. Only products that have been tested by an internationally accredited testing center, certified and labelled with the Korea Certification (KCs) mark may enter the Korean market. 
The KCs mark demonstrates that industrial equipment and machinery are safe and consistent quality in manufacturing process is ensured. Industrial machinery, protective devices and personal protective equipment are mandated to comply with safety requirements, technical capacity or production system requirements as per Korean Laws.
Two different types of documents:
• Certification of compliance (CoC)'
• 'Declaration of conformity (DoC)'.
Process of KCs Certification
• Application
• Written examination of documents
• Product examination
• Quality assessment
• Issue KCs Certificate
Surveillance – Every year
The surveillance audit regularly executed to verify if the manufacturer who obtained the safety certification obeys the standards of safety certification constantly
WWBridge can help you to conduct testing and inspections of your products subject to a 'Declaration of conformity (DoC)'. Partnering with us means short lead times and benefitting from our established working relations with local authorities. Ask how we can help you efficiently gain the KC mark for your products.
KEMCO certification (Energy Efficiency)
The KEMCO certification was established to help controlling energy consumption in South Korea. It is a major factor in controlling emissions and setting the right incentives for improving energy efficiency.
Certification authority
The most important organizations for the energy efficiency regulations are the Ministry of Trade, Industry and Energy (MOTIE) and the Korea Energy Management Corporation (KEMCO).
The implementation and execution of these regulations and programs has been delegated by MOTIE to KEMCO.
Energy Efficiency Label and Standard Program (mandatory)
The Energy Efficiency Label and Standard Program is a mandatory certification scheme that covers 35 product categories, including:
Refrigerators
Freezers
Washing machines
Dish washers
TVs
Electric motors
Domestic gas boilers
Electric fans
Normally, only already KC-certified products fall under this energy efficiency program. It requires product testing at designated national labs to determine the energy efficiency grades. The test report has to be provided to KEMCO, which makes it publicly available. Manufacturers then have to attach a label indicating the energy efficiency grade on their product.
e-Standby Program (Mandatory)
This program is also a mandatory scheme that covers around 22 product categories and encourages a lower standby power consumption and the adoption of energy saving modes while products are idle.
Included products are for example:
Computers
Printers
Scanners
TVs
Monitors
Home audio products
Servers
Hand dryers
Copiers
Testing in designated labs is required for a successful application with KEMCO.
The below label on the left can voluntarily be attached if products meet the required standards. However, products have to attach the warning label, should they fail to conform to the specified standby power standards.

High-efficiency Appliance Certification Program (Voluntary)
This voluntary program covers roughly 44 products categories, mainly targeting appliances for industry or buildings. If they satisfy the energy efficiency standards set by the government, they can apply the respective label and may be eligible for financial support.
Products include:
Lighting equipment
Industrial gas boilers
Inverters
Centrifugal blowers
Industrial oil boilers
LED security light fixtures
LED traffic lights
Heat recovery ventilators
For receiving approval by KEMCO, applicants must submit application documents and a test report issued by a designated testing facility.
Once the KEMCO certification is approved, manufacturers can mark with the following label
The experts at WWBridge can help you determine the specific type of certification you need, and therefore what testing, inspection, and certification requirements you need to meet. Please, feel free to contact our team through e-mail: [email protected], or call +7 (495) 787-87-70.
---
---
Certification experts will be pleased to consult you in your own language